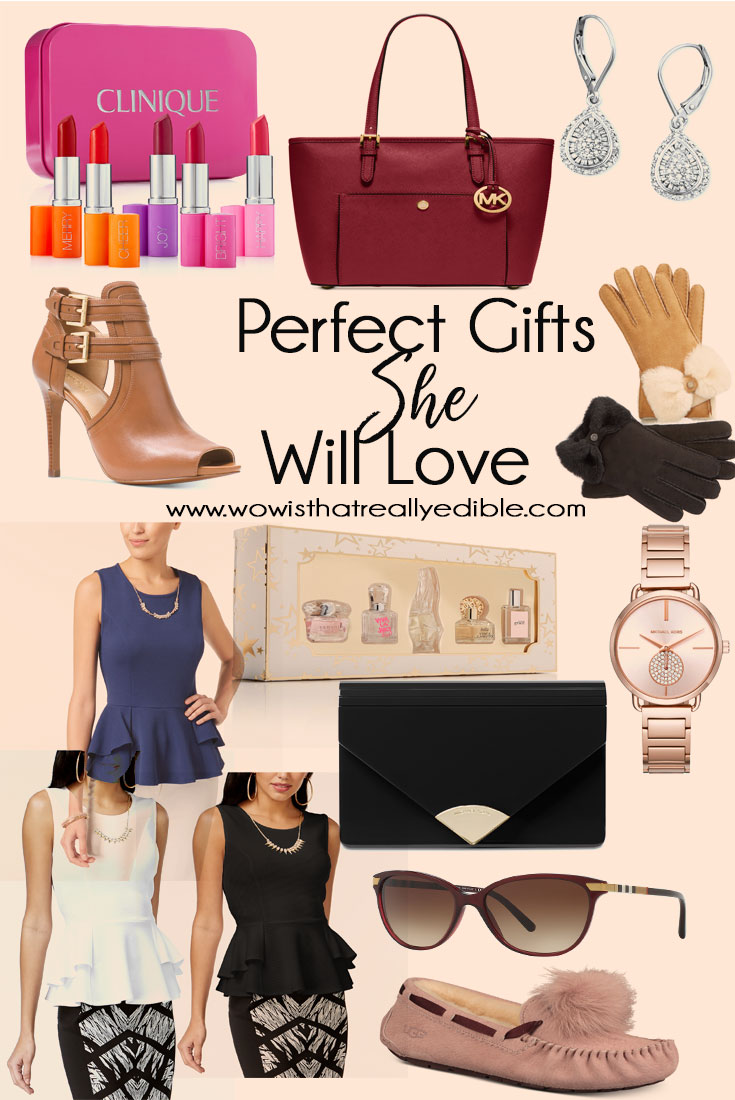 This page contains affiliate links which mean that, at no additional cost to you, I may earn a small commission if you make a purchase. Thank you very much for your support.
Are you looking for the perfect gift for a special lady in your life? Do you know the perfect gifts she will love? I know sometimes it is hard to find the right gift. Especially if she seems to have everything. This gift guide is perfect because it has a lot of classy gifts to choose from that she will love. No need to go to the store either, just virtually.
Women loves great gifts.
Here are the perfect gifts she will love:
This set includes five different shades of lip colors plus primer that can be worn comfortably for up to 8 hours. I promise she will love them.
This Michael Kors pocket tote is a perfect choice for everyone including moms. It is not too bulky and stylish enough to wear for any occasion.
Diamonds are a girls best friend and these beautiful earrings are a perfect gift for her. Can't go wrong with getting earrings. The prettier the better. I love earrings with a lever back enclosure to keep the earrings secured. Plus, the last thing you want is buy such beautiful earrings only for her to lose them.
Nothing completes an outfit like a pair of sunglasses. These Burberry sunglasses does not disappoint, they are beautiful and stylish. Not only do they protect your eyes, they can be worn all year round. Perfect gift for her.
If you are looking for a gift for her, perfume is very thoughtful. Instead of getting one scent, why not get a five piece gift sampler? This gift sampler allows her to enjoy more scents and she can choose a different on everyday. The gift sampler includes Donna Karen cashmere mist which I love and Juicy Couture Viva La Juicy to name a few.
A watch is a timeless gift that last forever. This Michael Kors watch is gorgeous and elegant. I guarantee that she will love it.
Who doesn't like fluffy slippers? This is another gift that she will love. I love my fluffy slippers and wear them all the time. They are perfect for relaxing in the house. Win, Win..
This clutch from Michael Kors is classic gift. It is classy, elegant and beautiful. Every woman needs one. It looks great paired with the little black dress.
Peplum tops are my favorite. One reason is because they are so versatile. Peplum tops can be worn with jeans and dressed up with a skirt or dress pants. They are great gifts because they are very flattering to the body. She will definitely appreciate this gift. Plus, they come in three different colors and with a detachable necklace.
These gloves are all about warmth and comfort. They are the perfect gift for her. She will absolutely love how stylish they are with the bow embellishment.
Fancy shoes is similar to diamonds in my book. I saved the best for last. No outfit is complete without nice shoes. These Michael Kors shoes are perfect. They can be worn with any outfit, at least I would wear them that way. Can dress up a simple pair of jeans and of course with the little black dress. Women loves shoes and she will simply adore these shoes.