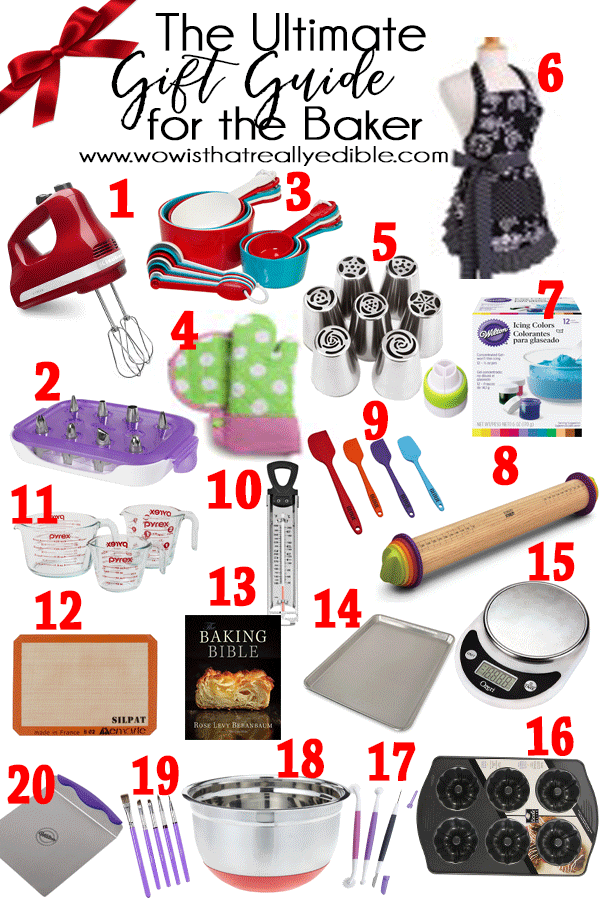 This page contains affiliate links which mean that, at no additional cost to you, I may earn a small commission if you make a purchase.  With that being said, I only recommend things that I use.  Thank you very much for your support.
Are you always trying to find the right gift for family and friends?  This year for the first time, I have compiled an Ultimate Gift Guide for the Baker.  I compiled this list from some of my favorite baking and cake decorating tools to help make your holiday shopping easy.  If you have a baker in your life this is perfect for you.  All gifts are $35 and under.
Shopping for gifts is very exciting especially during the holidays.  I love admiring the decorations and the displays at the mall.  There is such a thrill in finding the right gift for my family and friends that will put a smile on their faces.  However, going to the store during the holidays can be such a hassle. The great thing about this Ultimate Gift Guide for the Baker, is that you can purchase everything from the comfort of your own home. no crowd or traffic involved.
The perfect gift is not about how much you spend, but the thought that counts.
Here is the ultimate gift guide, happy shopping.
This Kitchen Aide Hand mixer is perfect option for making small batters.  It is compact, lightweight and durable.  While I love the regular stand mixer and you cannot make Italian Meringue buttercream without it.  I prefer using the hand mixer because of the control that it gives.  I also love that it has five speeds.  Every baker needs one.
This set is great because it has the basic piping tips for the beginner.  There are so many piping tips available, this narrows it down to the ones that are used the most.  The set includes round tips, star tips, a drop flower tip, a petal tip and a leaf tip.
Of course, any baker will own multiple sets of measuring cups and spoons.  But, this set is useful because when you need a half or a quarter of a recipe and the measurement is not part of that the standard measuring cups or spoon set doesn't have such as 1/8 cup, 2/3 cup, 3/4  cup, 1-1/2  cups, 1-3/4 cups and 2 cups.  The measuring spoon also has unique measurements such as 1/32 tsp, 1/16 tsp, 1/8 tsp, 2 tsp, and 1/2 tbsp.
Baking is not complete without a cute oven mitt, it is the little things.  You can't go wrong with an oven mitt especially one that is as fabulous as the apron.  Choose a oven mitt that matches with the flirty apron or their favorite color.
The Russian piping tips are so much fun.   You are able to pipe perfect flowers each time.  Every tip gives you a different flower design.
A sassy apron makes you look stylish in the kitchen.  The baker will surely thank you for this cute apron.  There is nothing like being covered in flour and being cute at the same time.
Gel icing colors are great for the beginner or experienced to have.  A little bit goes a long way.  Can color anything food related from batter to buttercream.  This set has all the basic/primary colors and also includes brown and black.
Love this rolling pin, it is perfect for making pie crust and cookies.  Joseph adjustable rolling pin rolls the dough evenly and perfectly. Just choose the removable discs for the desired thickness.  The thickness ranges from 1/16-inch to 3/8-inch.  I find that I use the 1/4-inch the most for sugar cookies.
Every baker needs a good set of silicone spatula.  These spatulas are perfect because it does not have the removable head, you're welcome.  This eliminates the extra cleaning from the batter that gets in the little crevices.  Spatulas can be used to get the last bit of batter from the pan and it is really good at getting under baked goods.
The candy thermometer is great for European Buttercream or for candy making.  I love this because it is sturdy and the numbers are easy to read.  It measures in Fahrenheit and Celsius and comes with a clip on the back that can be adjusted to any height.
Love these liquid measuring cups, they perfect for measuring small or large batters. The set includes 1-cup, 2-cups, and 4-cups capacity. Having the different capacity of liquid measuring cups saves so much time especially when making larger cakes.
The Silpat non-stick silicone baking mat is perfect for cookies and can be used instead of parchment paper.  It is a time saving tool – no more taking the time to make sure the parchment fits the baking sheet perfectly.  Pick up a few.  Which means extra cookies for you.
The baking bible is filled with many baking tips.  Bakers will sure to learn something no matter their skill level.  The book will teach you many things, from measuring correctly, to making the perfect buttercream.
Having a good quality baking sheet is important for baking cookies.  A good baking sheet allows you to baked cookies that keeps its shape and prevents it from burning before baking through.  I love these Nordic Ware baking sheets because they are heavy duty and durable.
When baking precision matters and using a digital kitchen scale allows you to be more precise in your measurements.  Sometimes when measuring by cups you may have a slight variation in your recipe and its outcome.  The digital kitchen scale makes a huge difference.
The Wilton 6-cup mini fluted plan is perfect to prepare individual servings of cakes.  You know for the those who only wants a small serving of cake without feeling guilty.  The mini cakes can be easily "dressed up" for a beautiful presentation and used for great gifts.
No baker's tool kit is complete unless they have a set of gum paste tools.  But, not every tool set comes complete with a stitching tool, a ball tool and a cutting blade.  Each tool has two sides for a total of six uses and helps to bring fondant and gum paste to life .  I use these tools all the time and I am sure any baker would love this gift.
Mixing bowls are one of the most used items for a baker.  I remember when I purchased my first nonskid mixing bowl I was over the moon excited.  It is perfect because it holds a lot of batter, and it doesn't move around at all.  Grab a few, it will make any baker happy.
The Wilton 5-piece decorating brush set make it easy to paint on cookies, fondant and on cakes.  The brush is food safe and with different thickness.  Each thickness is used for certain fine details or other design such as brush embroidery.  The 5-piece decorating brush brings cake decorating to another level.
The Wilton cake lifter is perfect for lifting fragile cake layers, whole cakes, and cookies up to 12-inches.  It is great for lifting small fragile fondant/gum paste decorations until they dry.  Perfect for the beginner or the professional.
[powr-social-media-icons id=b010cfce_1509100078672]